(English version follows)
El pasado 12 de Noviembre, Emilia Gómez, Investigadora Principal de PHENICX, presentó el proyecto dentro de unas interesantes jornadas que la Asociación Española de Orquestas Sinfónicas (AEOS) y la fundación BBVA dedicaron en su primer día a los nuevos retos y oportunidades que presenta la utilización de tecnología para las orquestas. También participaron en las jornadas Alba Rosado y Julio Carabias, responsable de la gestión e investigador del proyecto respectivamente.
La jornada la abrió Douglas McLennan (fundador y editor de Arts Journal) con una charla muy inspiradora sobre la utilización de tecnología y redes sociales con el objetivo de (i) conectar con la audiencia, (ii) mejorar la experiencia y (iii) medir el nivel de comprensión por parte de la audiencia en conciertos de música clásica. Además, McLennan repasó algunos ejemplos de aplicación de tecnología e iniciativas innovadoras por parte de orquestas de USA. 
Durante la primera sesión se presentaron diferentes proyectos relacionados con el mundo de la música clásica que presentan un aspecto diferencial gracias a la aplicación de tecnología, en concreto:
Bachtrack.com, buscador online de conciertos de música clásica.
medici.tv, servicio de retransmisión online de conciertos de música clásica.
Sibhack, evento de hackers relacionado con Sibelius.
Proyecto PHENICX. En nuestro caso, presentamos los casos de uso en los que trabaja el proyecto PHENICX y las tecnologías que los diferentes socios están investigando y desarrollando. Ante la petición de algunos asistentes y, debido a la brevedad de la intervención, adjuntamos la presentación y algunos vídeos interesantes al final de este post. 
David Peralta, social media manager, blogger y violinista profesional de la Netherlands Philharmonisch Orkest
La siguiente sesión se dedicó a presentar ideas innovadoras relacionadas con la tecnología que diferentes orquestas están poniendo en práctica, en concreto: Philharmonia Orchestra (Londres), Berliner Philharmoniker, New World Symphony (Miami) y Detroit Symphony Orchestra. La Vanguardia publicó
un artículo
relacionado con la jornada en el cual interviene Emilia Gómez.
Resumen de nuestra presentación: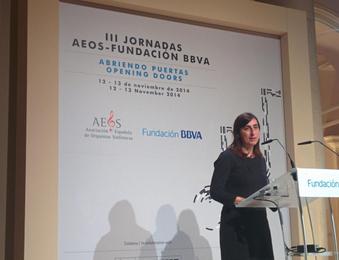 ENGLISH
Last November 12th, Emilia Gómez, Principal Investigator of PHENICX, presented the project on an interesting workshop that the Spanish Association of Symphonic Orchestras (AEOS) and BBVA foundation devoted, in its first day, to the new challenges and opportunities that technology offers for orchestras. Alba Rosado and Julio Carabias, responsible for WP1 (project coordination) and project researcher respectively, also took part in the workshop.
Douglas McLennan (founder and editor of Arts Journal) opened the workshop with a very inspiring talk about the use of technology and social networks for (i) connecting with the audience, (ii) enhance their experience and (iii) measure the level of understanding of classical music concerts. In addition, McLennan reviewed some examples of the application of technology and innovative applications from Orchestras in USA.
During the first session, different projects related to technology were presented, always linked to classical music
Bachtrack.com, online search engine for classical music concerts.
medici.tv, online streaming services of classical music concerts.
Sibhack, hacking event related to Sibelius
PHENICX. We presented our use cases and the technologies that the different parnerts are researching and developping, integrated in our prototype. Given the short time for our presentation, we provide here the slides and some complenetary videos.
David Peralta, social media manager, blogger and professional violin player at the Netherlands Philharmonisch Orkest
The following session was devoted to present innovative projects related to technology that different orchestras are carrying out:  Philharmonia Orchestra (London), Berliner Philharmoniker, New World Symphony (Miami) and Detroit Symphony Orchestra.
PHENICX videos: